Zakiya Dalila Harris' debut novel, The Other Black Girl, is the latest pick for the Good Morning America book club.
Harris' book follows Nella, a Black editorial assistant at a prestigious publishing house who becomes suspicious of her new co-worker, another Black woman who might not be what she seems. In a starred review, a critic for Kirkus called the novel "slyly brilliant" and "a biting social satire–cum-thriller; dark, playful, and brimming with life."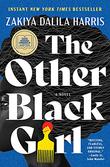 On Instagram, Harris reacted to her novel's selection for the book club, writing, "Kicking off pub day with this very dope announcement: #TheOtherBlackGirl is GMA's June book club pick!!!! Thank you @gmabookclub for reading [and] picking TOBG. Can't wait to chat with you later this month!"
In an interview with NPR, Harris, who used to work at Knopf/Doubleday, said that her novel was inspired by her own experiences in the publishing industry.
"I fortunately did not have it nearly as bad as Nella does," she said. "I also wasn't the only Black person where I worked. I was still one of few, not many, and the only Black woman in editorial. So, that part of looking around the table and not seeing anyone who looked like me, that part was very real."
GMA's book club isn't the only one to feature Harris' novel: Barnes and Noble announced Tuesday that The Other Black Girl is its latest book club selection as well.
Michael Schaub is a Texas-based journalist and regular contributor to NPR.