A first-generation Cuban American from Austin, Texas, Adrianna Cuevas' middle-grade debut was a Pura Belpré honor book last year. Her follow-up, Cuba in My Pocket (Farrar, Straus and Giroux, Sept. 21), is one of Kirkus' Best Middle-Grade Books of 2021. It follows a 12-year-old boy who flees Castro's Cuba for Miami; our critic called it a "compassionate, emotionally astute portrait of a young Cuban in exile." Cuevas answered our questions by email.
What was the inspiration to write Cuba in My Pocket?
Cuba in My Pocket began from a small scene in The Total Eclipse of Nestor Lopez where Nestor complains about a bad day at school and tells his abuela she doesn't understand what it's like to continually start over as a military kid. She tells him her immigration story in response—moving by herself from Cuba to the U.S. as a child without knowing any English. My father's immigration experience was the inspiration behind her story, but I didn't want to leave my father's legacy to one chapter in a fantasy book. I knew I wanted to tell it completely, and thus began my research and writing for Cuba in My Pocket. I didn't know at the time that chronicling my father's history would take on even greater importance after he passed away in November 2020 before the book's publication.
Who is the ideal reader for your book, and where would they be reading it?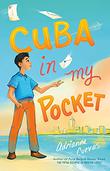 The ideal reader for Cuba in My Pocket is anyone interested in exciting stories filled with moments of humor, emotion, and adventure; young readers who are curious about time periods not often addressed in history class; Cuban American kids who wonder about the experiences of their ancestors. And finally, it's for readers who have strong opinions about the best way to cook picadillo.
As for where Cuba in My Pocket's ideal reader would be reading the story? Perhaps they're reading their copy hidden behind their science notebook so their teacher doesn't catch them. And maybe the pages are just a little sticky from having eaten too many pastelitos de guayaba. If so, they would be just like the author at a young age.

What do you hope readers take away from Cuba in My Pocket?
While this story recounts an experience from a specific time in history, I hope it provides a springboard for conversations regarding current issues surrounding immigration and the need for empathy and understanding. It is also my wish that through Cumba's journey, young readers will understand it's completely acceptable to have messy emotions, to ask for help, and to rely on other people, just like the book's main character. Most of all, I hope readers finish this book understanding that the stories of our elders are worth preserving, if we are willing to listen.
What children's book most dazzled you this year?
It would be impossible to pick a single book, particularly considering what little restraint I have in reading stories! Yusuf Azeem Is Not a Hero by Saadia Faruqi belongs in every single classroom in the United States. Lotería by Karla Arenas Valenti is an exciting story with one of the most daring endings I've ever read in middle grade. And How To Win a Slime War by Mae Respicio is the perfect example of a fun, engaging middle grade that also tackles topics of identity and family masterfully. My bookshelf is exactly two books away from collapsing under the weight of all the great stories out there.